Maryland DOT Public Private Partnerships
The I-495 and I-270 P3 Program at the Maryland Department of Transportation leverages public-private partnerships and local input to design, finance and build improvements aimed at reducing severe traffic congestion on 70 miles of interstate and adjacent local roads. [Reference] Maryland Department of Transportation, "P3 Program Overview," 2019, [Online]. Available: https://495-270-p3.com/program-overview/.
Several components of the program include:
I-495 & I-270 Managed Lanes Environmental Impact Study to provide users with a choice of paying a toll for reliable, reduced congestion lanes or using the existing lanes toll-free.
I-270 from I-370 to I-70 Pre-National Environmental Policy Act activities including public input.
Opportunity MDOT: Resources to encourage P3 participation by small, minority-, women- and veteran-owned businesses and disadvantaged businesses.
Partnering opportunities with the private sector on designing, financing, building, operating and maintaining improvements.
Previously, the National Capital Region experienced severe traffic congestion.
By leveraging local input and private partnerships, MDOT has been able to achieve time savings of 12 percent on managed lanes. They have increase their capability to create a culture of transparency and accountability by providing the traveling public with travel options, while improving capability to collaborate across jurisdictions.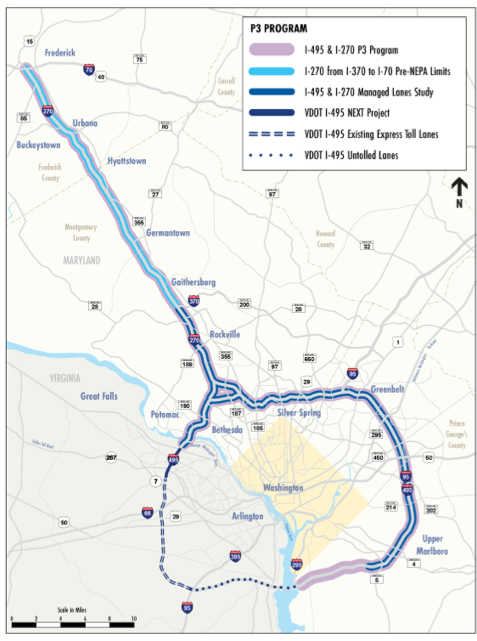 https://495-270-p3.com/wp-content/uploads/2019/09/I-495_I-270_Newsletter_Sept2019.pdf