In the literature, there are (at least) two views of organizational capability. The Enterprise Architecture (EA) view shown in Figure 1 defines capabilities as what an organization must do to deliver value to customers and stakeholders. In this view, Capabilities are typically segmented into strategic (or business-evolving), core, and enabling categories:
Business-Evolving or Strategic Capabilities

enable the organization to respond to change and plan for future evolution.

Core Capabilities

are related to the core operation of the agency – which in a DOT would be things like maintenance management, project delivery and highway operations.

Enabling Capabilities

support day to day operations and are common across multiple types of organizations. Examples are financial management, human resources management and information management.
A second view described in a Harvard Business Review article sees capabilities as "the collective skills, abilities, and expertise of an organization…" which are "the outcome of investments in staffing, training, compensation, communication, and other human resources areas." In short, capabilities are defined as "the ways people and resources are brought together to accomplish work." This article identifies 11 capabilities of well-managed companies: talent, speed, shared mindset, accountability, collaboration, learning, leadership, customer connectivity, strategic unity, innovation, and efficiency.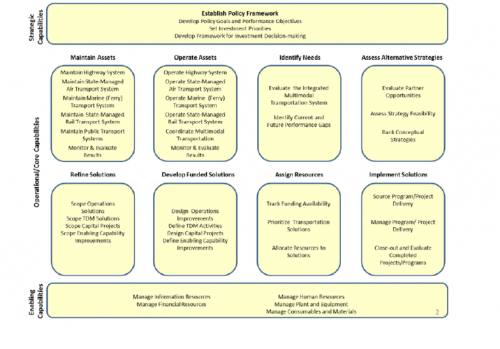 Source: WSDOT Report