Partnership management refers to activities related to:
collaborating with private sector partners,
being flexible and innovative in project contracting methods, and
collaborating with partners and stakeholders, such as on IT agreements.
The table below includes examples of the subcategories within partnership management, along with the associated activities and capabilities that are built using organizational management.

Table 3.5 Partnership Strategies
Strategy subcategory
Sample Activities
Capabilities Addressed
Public/private partnerships
Partnering with private firms to implement new connected vehicle technology in a corridor
Aligning Skills to Needs
Agility & Resilience
Technology Adoption
Operations Focus
Innovative contracting method
Executing data sharing agreements with partner agencies
Agility & Resilience
Technology Adoption
Operations Focus
Collaborative agreements
Putting contracting methods in place that enable flexibility (such as task order contracts) or enable the contractor to operate a new system for a period prior to turning it over to the agency.
Aligning Skills to Needs
Agility & Resilience
Technology Adoption
Operations Focus
Maryland DOT Public Private Partnerships
The I-495 and I-270 P3 Program at the Maryland Department of Transportation leverages public-private partnerships and local input to design, finance and build improvements aimed at reducing severe traffic congestion on 70 miles of interstate and adjacent local roads. [Reference] Maryland Department of Transportation, "P3 Program Overview," 2019, [Online]. Available: https://495-270-p3.com/program-overview/.
Several components of the program include:
I-495 & I-270 Managed Lanes Environmental Impact Study to provide users with a choice of paying a toll for reliable, reduced congestion lanes or using the existing lanes toll-free.
I-270 from I-370 to I-70 Pre-National Environmental Policy Act activities including public input.
Opportunity MDOT: Resources to encourage P3 participation by small, minority-, women- and veteran-owned businesses and disadvantaged businesses.
Partnering opportunities with the private sector on designing, financing, building, operating and maintaining improvements.
Previously, the National Capital Region experienced severe traffic congestion.
By leveraging local input and private partnerships, MDOT has been able to achieve time savings of 12 percent on managed lanes. They have increase their capability to create a culture of transparency and accountability by providing the traveling public with travel options, while improving capability to collaborate across jurisdictions.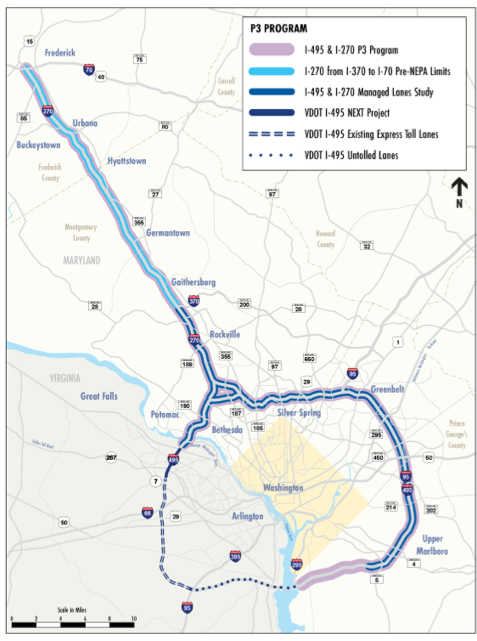 https://495-270-p3.com/wp-content/uploads/2019/09/I-495_I-270_Newsletter_Sept2019.pdf